The one-year anniversary is quickly approaching and he's on my mind more than ever. Pangs of guilt hit me, as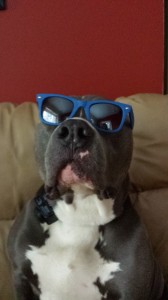 I imagine scenarios in which I could have done things differently forcing a different outcome. I thought I had made peace with Dink's death, but my attempt to recreate the past means a residue of suffering remains.
I remind myself of the many blessings received by his dramatic departure. He inspired the Freedom from Suffering Group Distance Healings and countless people (including furry friends) have benefited. He didn't die in vain.
I silently request Dink give me a message, because it's my loneliness for him that's causing me to feel a loss.
I push the play button on my speaker to start Pandora, preset to the Son of a Preacher Man station (soulful music is fun to get ready to)! There's a powerful message within the lyrics:
"Your love lifted me higher,
Than I've ever
Been lifted before."
Unconditional tears of love flow, washing away grief and loneliness with feelings of joy. He was a powerful force of love. We loved him and gave him a good home, and he was always grateful.
"…And I'll be at your side
Forever more."
He is by my side. When I check my iPod to see that Jackie Wilson is the performer of (Your Love Keeps Lifting Me) Higher & Higher, I notice a PetSmart ad on the display with bags and cans of pet food. Dink loved to eat! Having been born into adverse and abusive conditions, he never outgrew his habit of consuming food as quickly as possible in fear it would be taken away or eaten by another dog.
Upon closer inspection, the ad contained only cat food, reminding me of how Dark Star, our 11-year-old black cat, had moved to the basement when Dink joined our family due to his overwhelming curious nature. Dark Star enjoys full reign of the house and my lap like never before. This makes Dink happy.
That unmistakable scream comes on next:
"WHOAH! I feel good,
I knew that I would,
Now I feel good,
I knew that I would, now"
Whenever I hear I Got You (I Feel Good), I see James Brown's wacky legs zigzagging across the stage. Dink's hip dysplasia had started to impair his movement, as well as his pleasure. As I listened, I sensed Dink's departure is exactly what he needed in order to run freely and experience the thrill and excitement of defying physical limitations. His freedom fills my heart with joy.
My momentary misremembering that anything could be in a state other than divine order is quickly set straight. He came through big time, as my loneliness is replaced with boundless love.
The third male performer in a row (unusual for my Dusty Springfield station), Sam Cooke, comes on with a Wonderful World. Dink's bark was high-pitched, but he communicated with a deep, soulful voice. Channeling Elvis' "Thank you very much" and playing on Fat Bastard's "Get in my belly" with "Rub my belly" instead. It's fitting he's using R&B music to speak to me now. While Dink didn't know much about history or much biology, he did know that he loved me. And if I loved him too, what a wonderful world this would be!
**************************************************************************************************************************************************
You are invited to learn more about Dink's Story and participate in the monthly Freedom From Suffering Group Distance Healing in his honor.